Welcome to POWAY
Known for its famous slogan—"The City in the Country"—Poway was not officially named a city until late 1980. Situated approximately 23 miles northeast of Downtown, it's a great place to live for those who want to get away from the hustle and bustle of city life. Poway offers plenty of opportunities to get outdoors and appreciate the natural beauty of the area.
The Poway area is revered for its exceptional schools. The Poway Unified School District has earned a reputation as being one of the best districts in and around San Diego. In fact, it is a leading reason why many buyers gravitate here, as well as the surrounding communities of Rancho Bernardo, 4S Ranch, Del Sur, and Scripps Ranch. Buyers are also drawn to the typically larger lot sizes found here as compared to homes closer to Downtown.
Surrounded by rural landscapes, the Poway area is also fantastic for outdoor enthusiasts. There are plenty of spots to go hiking, walking, running, climbing, and horseback riding. There are also wonderful spots for observing the local plant and wildlife, such as the Blue Sky Ecological Preserve. Poway is also home to Mt. Woodson and it's famous "Potato Chip Rock"
The current median list price of homes in this area are in the mid-$800K
What to Love
An all-encompassing suburban community surrounded by rural beauty

Well renowned school district.

Access to hiking, running and horseback riding
Dining, Entertainment & Shopping
As "The City in the Country," Poway has become an all-encompassing community. Even with the reasonable drive to nearby San Diego, the area has rapidly built up its own shopping, dining, and entertainment scene.
Along Poway Road, you'll be able to complete your shopping in no time. With a mix of locally-owned businesses and national retailers, you can effortlessly find exactly what you need. In town, enjoy the convenience of being close to shopping destinations such as HomeGoods, Walmart Supercenter, the Creekside Plaza shopping mall, Poway Bicycle, ALDI, Kahoots Pet, Sprouts Farmers' Market, Michaels, and more.
Poway is home to the famous Bernardo Winery, which offers a weekly Sunday jazz brunch, fall hay rides and vibrant Christmas market. There are also many top-quality restaurants. Resident favorites include El Ranchito Taco Shop, Rosaria Pizza, Pacific Pizza, Iron Pan Thai Kitchen, Tikka Lounge, and Smokin J's BBQ.
Things to Do
New residents are always delighted to discover the abundance of outdoor spaces that are scattered throughout Poway. Nature lovers especially feel right at home when relocating to the area.
Throughout town, you'll find a high density of immaculately maintained city parks. Plan a morning or afternoon at Hilleary Park, Aubrey Park, Dearborn Memorial Park, North County Soccer Park, Old Poway Park, and Silverset Neighborhood Park.
If you have your sights set on a more rigorous adventure out in nature, Poway is full of places to explore. Visit locations such as Twin Peaks Trail Summit, Tooth Rock, Iron Mountain Trailhead, Ellie Lane Trailhead, and Warren Canyon Trailhead, or make your way up Mt. Woodson for a gravity-defying photo-opp on Potato Chip Rock when you're in the mood for a day of fun and adventure.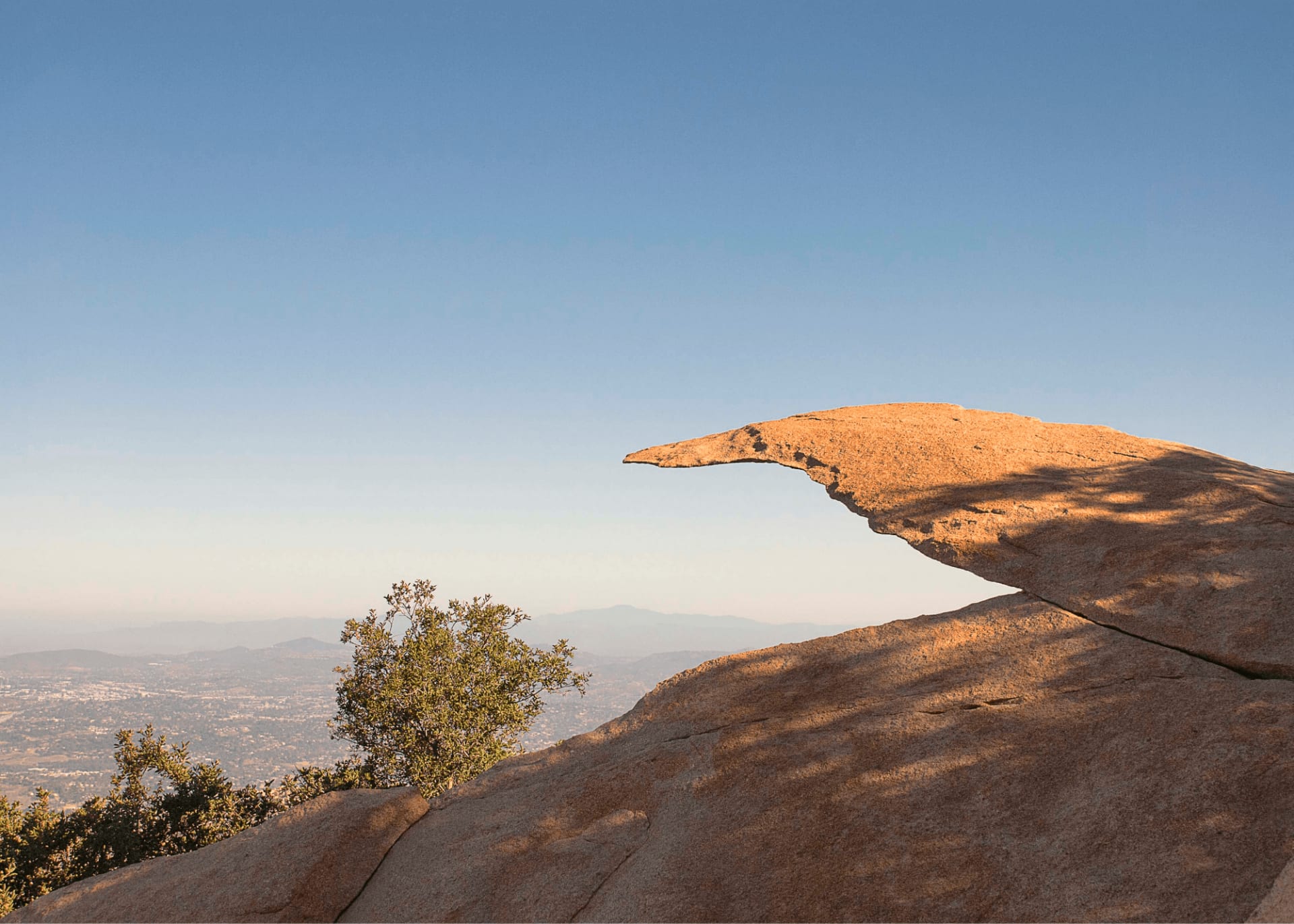 Schools
Poway/Rancho Bernardo is home to several excellent, award-winning schools. Top educational opportunities include: